I don't know about you, but I have never seen someone selling food on the street, as in a food vendor that drives and parks places to sell food. I think Minnesota is lacking some serious stuff—well at least in my neck of the woods! So I decided to round up some of the best known food vendors across the US in hopes that one day I can have the opportunity to buy something off of the street =) Maybe some of these are in your town, or you've eaten from one or more—let me know!
[[Madison, Wisconsin]]
Ingrid's LunchBox is a mobile food establishment and caterer located in Madison, WI. Ingrid's LunchBox appears at the top of State Street serving breakfast on Saturday mornings at the Dane County Farmer's Market. Ingrid's LunchBox can also be found many weekdays during the lunch-hours on the Memorial Library Mall in downtown Madison, Wisconsin. Throughout the year, Ingrid's serves Midwestern home style entrées, salads, and soups from her hand built trailer.(Location here.)
[[Charlottesville, Virginia]]
Patrick Critzer is a student of great global street food. At his cart he sells a wide range of locally sourced and organic dishes, from grilled Moroccan chicken and masala curry to teriyaki tofu. This being the South, he also makes a mean peach iced tea as well.
[[New York]]
The latest high-end New York street food trend is sweets. At the DessertTruck, co-run by a former Le Cirque pastry chef, the specialties include bomboloni(cream-filled, deep-fried brioche dusted w/cinnamon sugar) and chocolate bread pudding.
[[Los Angeles]]
The dogs from this food cart run circles around most franks. No surprise considering they're made from grass-fed beef and humanely raised pork and homemade condiments are on the menu; and one of the owners is the former meat forager for Chez Panisse restaurant.
[[Portland, Oregon]]
At this shiny cart, manned by Kevin Sandri, you'll find Sicilian and northwestern Italian specialites, including mozzarella-stuffed arancini, potato fritters, and chicken alla diavola. Most are made from organic, locally sourced ingredients.
[[Austin, Texas]]
Nessa Higgins and Andrea Day Boykin flip and fold crepes savory(shredded pork with caramelized onions and Gruyere) and sweet(brownie crumbles topped with dark chocolate sauce and Chantilly cream) inside their Avion trailer.
[[Seattle, Washington]]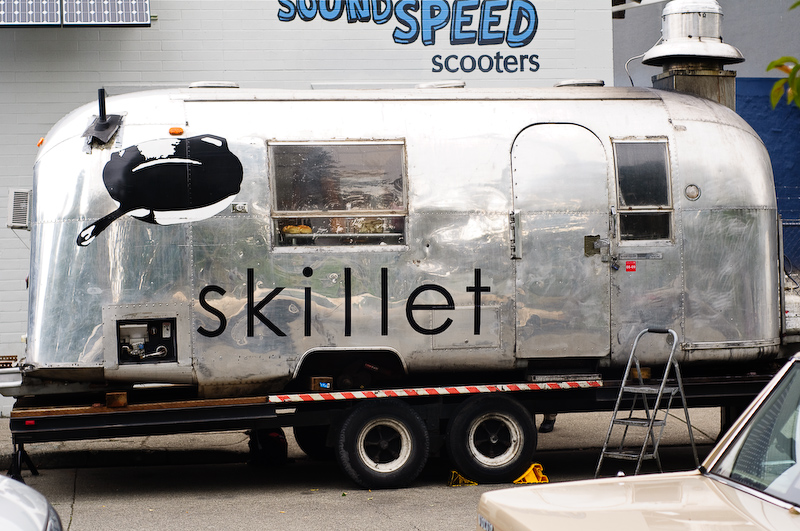 Take a culinary school graduate, a hospitality veteran, and a few Airstream trailers, and you've got the idea behind Skillet Street Food. Have maple-braised Oregon pork belly, a fried egg, and a cornmeal waffle for breakfast or a lemongrass pork "sammy" with cabbage and ginger slaw, and hand-cut fries for lunch.
These all sounds street-licious to me!
*Adapted from June 2008 Bon Appétit Article